"When you play the game of stars... you either win or die."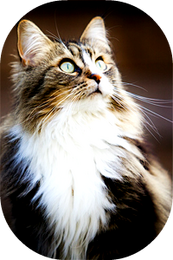 IDENTITY
Prefix: War- Inherited due to birth situation
Suffix: Star- Traditional leaders suffix
Previous Name(s): Warkit, Warpaw, Warheart
Nickname(s): War, Mama Warstar, Love
Gender Identity: Cisgender Female
Gender Pronouns: She/her
Current Age: 44 Moons
Voice: Daenerys Tagarayen- GOT
________________________________________________________________________
INFORMATION
Creator: SilencedRose

Roleplayer: SilencedRose

Year of Creation: 2013-2014

Status: Active & Alive

Sex: Female

Sexual Orientation: Bisexual

Species: Felis Catus

Breed: Norwegian Forest Cat

Residence: SageClan

Rank: Leader

Date of Birth: December 10th

Zodiac: Sagittarius
________________________________________________________________________
NINE LIVES
1. Courage- Given by Ghostgaze [Lost due to blood loss during kitting]
2. Forgiveness- Given by Sparrowsong [Lost from smoke inhalation in forest fire]
3. Compassion- Given by Mothlight [Lost due to blunt force trauma in rock fall]
4. Selflessness- Given by Mousetail
5. Faith- Given by Aspenkit
6. Justice- Given by Palepaw
7. Love- Given by Palepetal
8. Wisdom- Given by Koisplash
9. War & Peace- Given by Sagestar
________________________________________________________________________
APPEARANCE
Appearance Summary: Warstar is a beautiful snow white and dappled tortoiseshell she-cat. She has stunning, vibrant icy blue eyes and is tall compared to most she-cats with a bony, broad build.
Breed: Norwegian Forest Cat
Height: 9.3 Inches (At shoulder)
Length: 2.5 Feet (From nose to tail-tip)
Weight: 8 Pounds
Physical Build: Warstar has a pure-blooded SageClan cats build, being tall, muscular with broad-shoulders, and long-fur. However, she's quite thin compared to other cats, tending not to eat as much as others, making most of her weight muscle.
Facial Features: Flawlessly symmetrical dappled and pale patterns run around her forehead, along her eye lids and cheeks, with a perfectly constructed alabaster painted muzzle.
Body Features: A fluffy dappled tail with an alabaster coating beneath and chocolate brown paws. She has a slim white underbelly and chest, where you can feel her ribs not far beneath the flesh.
Coat: A snow white underbelly and chest, with a mainly dark chocolate colored coat and paler symmetrical dapples along her neck, back, and sides. Her fur is extremely soft and fluffy to the touch, being luxurious and well groomed, for its rare for it to be reckless.
Scars: Long, deep claw marks run down her back, yet hidden beneath her sleek fur coat. Multiple scars remain hidden around her nape, chest and underbelly, only being revealed when the fur is groomed in the opposite direction to view skin.
Scent: A creamy mix of roses, winter pines, and Rebellingwing
________________________________________________________________________
PERSONALITY
Positive Traits
Brave - Charming - Loving - Forgiving
Summary: Warstars positive traits are not open to others, often concealed by her neutral and negative traits. However, nobody can doubt her reckless courage and the love she holds towards her clanmates. She doesn't hesitate to defend those she loves or fail to show her endless care towards others, loving them more than herself. She's reserved, calm, and a courteous she-cat and manages to find goodness in others where cats may not be able to see it, making her quite merciful.
♛♛♛
Neutral Traits
Flirtacious - Ambitious - Selfless - Mysterious
Summary: Warstar is quite the mystery at first glance, seeming to be a reserved, emotionless, and quite intimidating she-cat. As she grew up she learned letting few in was the best for her own good, but it's never stopped her from being selfless or ambitious. However, she still has the small tendancy to flirt and wrap cats around her paw, even without the intention.
♛♛♛
Negative Traits
Impulsive - Manipulative - Stubborn - Emotional
Summary: For the most part, Warstar is able to keep her composure, but when she has bad intentions or is pushed to the edge, she may react strongly. This can include her impulsiveness, manipulation, stubbornness, or emotional attitude. She can lash out in any way, driving others away, or manipulate others to do what she wants. These are all driven by her emotions, causing her to push people away. ________________________________________________________________________
PHYSICAL STATISTICS
Current Physical Health: Warstar currently suffers from Death Disease that is still in the progress of developing and will continue with and without treatment.
Physical Disorders/Disabilities: None
Strongest Skills: Warstars strongest skills include her defense, accuracy, and reflexes. She's able to use her broad and muscular figure as an advantage towards other cats to make defense easier.
Weaknesses: Agility and speed are not Warstars strongest skill due to her larger figure. She's unable to move quickly or swiftly with her broad body, often being more clumsy than agile or fast.
Points of Weakness: Underbelly, Throat, Back, Eyes
Previous Conditions: Past fevers, fatal scarring along back, Birth complications
Current Conditions: Death Disease
SKILLS OUT OF 10
Defense: 9/10

Reflexes: 8/10

Accuracy: 9/10

Strength: 8/10

Agility: 3/10

Stamina: 5/10

Speed: 4/10

Balance: 4/10

Stealth: 5/10

Hunting: 6/10

Swimming: 7/10

Climbing: 6/10
________________________________________________________________________
MENTAL STATISTICS
Current Mental Health: Warstar has slowly developed Clinical Depression throughout her life along with having it as a hereditary link on her mothers side of the family. Although her mental health has improved with support, she still shows signs involving mood swings, hopelessness, anger outbursts, guilt, withdrawal from others, and troubled decision-making.
Mental Disorders/Disabilities: Clinical Depression
PHOBIAS & FEARS
-Thanatophobia (The fear of loss)
-Lockiophobia (The fear of baring kits)
-Athazagoraphobia (The fear of being forgotten)
LIFE GOALS
-Lead and protect her clan to be the best leader she can possibly be
-Protect her clanmates at all costs
-Protect and give her mate a happy life
-Keep her kits and their reputations safe
SKILLS OUT OF 10
Leadership: 9/10

Ambition: 9/10

Intelligence: 8/10

Wisdom: 9/10

Sociability: 3/10

Sensitivity: 6/10

Emotional Strength: 9/10

Mental Strength: 5/10

Herbal Knowledge: 3/10
________________________________________________________________________
BLOODLINE
RELATIONSHIPS
OTHER RELATIONS
EXTRAS
LIKES

-Winter

-Cold breezes

-Doves (As prey)

-Swimming

-Sound of the stream

DISLIKES

-Summer

-Heat & Humidity

-Wasps & Bees

-Young kits

-Loud noises
________________________________________________________________________
QUOTES
Q&A
________________________________________________________________________
GALLERY
________________________________________________________________________
________________________________________________________________________
________________________________________________________________________
________________________________________________________________________
________________________________________________________________________