edits coming soon hopefully!
Format belongs to XHorizonFlowerX
❝ It's not until we stop and take our time to do things do we realize how truly beautiful they are.❞
                          - Paleshine to Yasminewater
Paleshine

About

Status

 

Roleplayer

Alive/Active

 

artziekittyx3

Clan

N/A

Rank

N/A

Previous Ranks

All

Gender

Male

Beliefs

Starclan/Dark Forest

Apprentice

N/A

Age

37 moons
Character Insight
Paleshine is an unnaturally small aquaphobic tom with snow-white fur, a light brown underbelly, and light gray stripes. He has a very long tail and light blue eyes. Due to a skirmish with rogues, he has a small scar by his left ear.
Name Break-down:
Pale - [Light in color or having little color]
Shine - For his pelt, which seems to glow in direct sunlight
Age: not a grandpa
Previous Names: Palekit, Palepaw, Paleshine
Biological Gender: Male/Tom
Zodiac Sign: Libra
---
Appearance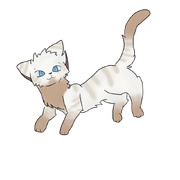 Paleshine is an unnaturally small, short-furred tom with snow-white fur, a light brown underbelly, and light brown stripes. His tail is very long, and he has a small scar by his left ear.
Voice: Nate Ruess
Scent: Rain
Breed: American Shorthair (50%), Turkish Angora (50%)
Build: Paleshine has a rather lithe build, with a long tail that assists him with balance. 
Fur: Paleshine's pelt is rather short, beneficial to him in Greenleaf but a challenge in Leafbare.
Scars: Small scar by left ear.
Personality
(+): Hard-Working - Paleshine tends to pour all of his energy into his duties, and works as hard as possible to get them complete as soon as possible, and in the way he intends it to be. He's very diligent and industrious, and prefers to get things done sooner than later.
(+): Responsible - Paleshine is also very responsible, and finds it easy to manage several different tasks at once. Because of this, he is in some forms a natural-born leader, and tends to enjoy handling important matters. 
(+): Caring - Paleshine is very caring towards his fellow Clanmates, and cares for all of them more than words can say. Frequently he takes it upon himself to be a father-like figure to some of his younger Clanmates, and listens to them if they need to talk. 
---

(=): Discontented - Paleshine never seems to be satisfied with himself, or with others. Although this helps him strive to improve his personality, the way he interacts with people, and to try to develop himself more, it creates a negative influence on his feeling of self-worth and confidence. 
(=): Sensitive - Paleshine is a bit too sensitive for his own good. Although it helps him to take care of others and be aware of his (as well as their) feelings, he gets hurt emotionally very easily, and he frequently tends to take things personally or the wrong way.
---

(-): Blunt- Paleshine heavily believes in "honesty is the best policy", and prefers to give it to cats straight-up then giving them sugercoated lies. Because of this, however, he can lay the truth down without hesitation, even if it's something very dark and heavy, and definitely comes off of overly blunt.
(-): Aloof - Paleshine has lost so many cats dear to him throughout his life, that he's gotten afraid to get too close to anyone else now. He's become rather aloof, prefering not to get any closer to felines then becoming friends with them. Because of this, Paleshine is rather distant and tends to be a bit more antisocial than he usually is. 
(-): Snappy - When upset, angry, or annoyed, Paleshine can become very defensive and tends to snap at the cats around him, even if they're his close friends or family. 
Relationships  
❝ ... ❞
Format Adapted by Apricate
Bullet Guide
//Slight Crush

//Crush

//Love

---------------------------------

//Trust

//Envy

//Regret
//Like

//Respect

//Idolize

---------------------------------

//Slight curiosity

//Major curiosity

//Interested
//Shy

//Nervous

//Discomfort

---------------------------------

//Acquaintance

//Friend

//Close friend
//Unease

//Disgust

//Aversion

---------------------------------

//Wants to get to know

//Misses

//Can't bear without
//Relatives

//Family

//Joint at the hip

---------------------------------

//Slightly suspicious

//Very suspicious

//Distrusts
//Annoyed by

//Dislike

//Hate

---------------------------------

//Dead

//Missing/Status Unknown

//Family

//Mate

//Fling/Ex-Mate
Character [Username] (rank)- (Relationship with them, based on a colored dot system)
Description of feelings on the character (from Paleshine's perspective). Note that the character's opinion will change as they grow old and bonds strengthen.
__________________________________________________
Yasminewater [kawaiistrawberry1] (Mate)  - 



 | 



| 


 | 

 | 



 | 

 | 

You're gone, too... I miss you so much, Yasminewater... Please stay safe.
---
Sablestar [slyfox454] (Good friend)  - 



| 


 | 

 | 

 | 



I feel guilty even to this day. I kept you in the dark, and it cost us our friendship. Luckily we were able to slowly rebuild it over time, but that doesn't make me feel any worse. You're one of my closest friends, you know? You've gone through so much, yet you've still stayed there for us... That is until you left for Seastar, that is. But love is love, and I'm not going to judge you guys.
---
Tiptoe  [Sovietwind] (Good friend)  - 



 | 

 | 


Tiptoe, we might have lost touch after Yasminewater and I went to SakuraClan,  I don't know where you are, but I can assure you that I don't care for you any less. You were such a great, caring friend to me, and I owe so much to you. I know it was hard for you after Deerthroat... disappeared... but I hope that you two are still doing well, and are mending your relationship.
---
Deerthroat  [iceclaw1147] (Friend)  -

 | 

 | 



 | 


 | 

I don't know how to feel about you anymore. It makes me ashamed to say it, but I'm going to be honest and say how anxious I get around you. I like you a lot - you're a great friend, of course, and I'm glad that I got to see you again when we helped rescue Dalepath's niece. But you just disappeared in the snowstorm, leaving Tiptoe completely upset and heartbroken. I don't like seeing my friends like that. 
---
Harvestfall [awesomehoops] (Best friend)  - 


| 



 | 

 | 



 | 

We've been best friends since BlossomClan, where we were both born. After Eaglekit's death, I felt so scared, so lost, so alone. But you changed that, Harvestfall! You stuck by my side, giving me support, and giving me the friendship that I lost with him. I remember thinking that you were so stuck-up before that, but even at that moment when you first asked me if I was okay, everything changed. I don't know where you are now, but I do know that I care about you like you're my own sister. Wherever you are, I hope you're safe, well-fed, healthy, and happy.
---
Rabbitwing[Woulf8] (Close friend) - 


| 



 | 

Rabbitwing, you're like a little sister to me. I can't begin to thank you enough for everything you've done for me. 
---
Ribbonpaw [NPC] (Sister) - 


 | 


 | 



 | 



 | 

 | 
You left me when we were just apprentices, Ribbonpaw. Although I guess I shouldn't be angry, should I? You left out of terror, to escape Needlestar's reign. Lionpelt followed suit, and it was only until after I had - never mind.. - that I decided to follow him. I found Lionpelt in FinchClan, but I still don't know where you are. Are you okay? Do you have your warrior name now? Are you even alive?
---
Lionpelt [lionking96] (Brother) - 



 | 

 | 


 | 


 | 
Hahaha, you're so old now! I'm so glad that I met you again in FinchClan. And you had a mate? And kits? Stars above, Lionpelt! But then you fell off a cliff - and you died, didn't you? I saw your corpse. I saw you bleed. I saw them bury you. So how are you still alive..?
---
Sleekstar [NPC] (Father) - 



| 


 | 



 | 


 | 

 | 
I love you so much, Sleekstar... I just know that you'll be the best leader ever! BlossomClan respects you so much after you saved them from Needlestar - you're my hero, father, and I think of you every single day. 
---
Goldheart [NPC] (Mother) - 



 | 


 | 


 | 

 | 
I miss you day after day, mother. I don't know what else to say besides I love you so much, and I look to you every day in the sky for guidance. 
---
Rainfall [Voif] (Ex-mate) - 


 | 



 | 



 | 

 | 

I hate you. I hate you, I hate you, I hate you, I hate you. I loved you, I cared for you, I trusted you, I did everything I could for you. We shared special moments! We raised a kit together! But you just had to ruin it all, didn't you? I can't believe I was blind to see that you were cheating on me all that time, manipulating my emotions, and forcing Asterkit to choose you! I'm sorry to say this, but I'm glad you're dead. 
---
Rainfeather [kittykatty66] (Ex-mate) - 



 | 

 | 

I'm sorry it didn't work out.
---
Riftsight [Obsessively] (Former leader) - 



 | 



 | 

You're disgusting. There's nothing else I need to say.
---
Diamondpaw [Froakiefro] (Adopted son) - 


 | 



 | 



 | 

Everyone I love leaves me eventually, I suppose.
---
Speckledfur [Empererpenguin77] (Good friend) - 



 | 


 | 

Another one dead.. dead because of kitting... Am I cursed to suffer death while others celebrate life? 
---
Azurespirit [Empererpenguin77] (Former Mate) - 



 | 


 | 

 | 



 | 

You died, and you tried to come back several times. That's what Greyleaf said, at least. After your death, I didn't know what to do. I was lost, I was sad - and I still am lost, and I still am sad, because everyone I love is leaving me one after another. Cat after cat told me I had to move on, but if I move on, I kill you forever - isn't that right? I just... I don't know what to do...
---
Shortstar [Chiefseattle] (Leader) - 


 | 

Thank you for the opportunity.
---
Gallery