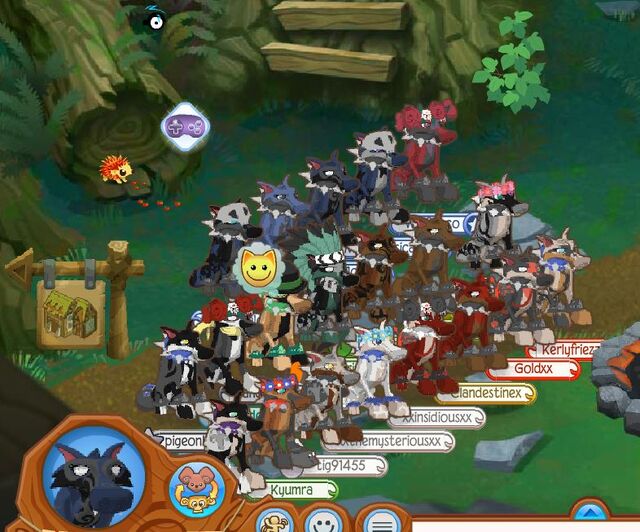 There is no description yet. Add a description.
Appears on these pages

of
Im also a mutant rabbit. Thank you, Acorn.

OC name: badger/sky wolf or which big cat: wolf injuries: Scar on her shoulder Animal jam...
See full list >
File history
Click on a date/time to view the file as it appeared at that time.
Date/Time
Thumbnail
Dimensions
User
Comment
current
01:32, July 18, 2018
1,024 × 768

(596 KB)

Iloveroleplay (wall | contribs)
05:29, March 6, 2018
1,024 × 768

(484 KB)

Poison the shecat (wall | contribs)
03:33, December 9, 2017
1,024 × 768

(604 KB)

Powerofthreerules (wall | contribs)
00:25, November 25, 2017
1,024 × 768

(634 KB)

Willowwisp22 (wall | contribs)
15:53, November 8, 2017
1,024 × 768

(663 KB)

Saberyt1440 (wall | contribs)
22:43, October 15, 2017
1,024 × 768

(593 KB)

Ineffable0 (wall | contribs)
08:42, September 24, 2017
1,024 × 768

(462 KB)

Cityli (wall | contribs)
07:14, August 27, 2017
1,024 × 768

(457 KB)

Menorah2 (wall | contribs)
22:19, July 12, 2017
1,024 × 768

(634 KB)

Mørtala (wall | contribs)
00:00, April 20, 2017
1,024 × 768

(510 KB)

Angelluna1 (wall | contribs)
10:04, April 13, 2017
1,024 × 768

(491 KB)

Ninonino6 (wall | contribs)
18:01, January 15, 2017
500 × 326

(25 KB)

Snowstorm48 (wall | contribs)
17:46, January 10, 2017
300 × 214

(595 KB)

TheBlackHatter (wall | contribs)
18:27, January 9, 2017
1,024 × 768

(598 KB)

DAT ONE BOI NOBODY KNOWS (wall | contribs)
20:17, January 8, 2017
300 × 214

(595 KB)

TheBlackHatter (wall | contribs)
13:24, January 7, 2017
500 × 326

(25 KB)

Snowstorm48 (wall | contribs)
01:39, December 26, 2016
1,024 × 768

(590 KB)

Splashthecat34511 (wall | contribs)
23:30, December 25, 2016
1,024 × 768

(590 KB)

Splashthecat34511 (wall | contribs)
18:33, December 20, 2016
1,024 × 768

(600 KB)

Geobud123 (wall | contribs)
15:39, November 12, 2016
1,024 × 768

(491 KB)

Jazzy34511 (wall | contribs)
14:52, November 12, 2016
1,024 × 768

(492 KB)

Jazzy34511 (wall | contribs)
17:46, November 6, 2016
1,024 × 768

(466 KB)

RedFeather(valleyclan) (wall | contribs)
15:57, November 6, 2016
1,024 × 768

(466 KB)

RedFeather(valleyclan) (wall | contribs)
13:18, November 5, 2016
1,024 × 768

(623 KB)

Jazzy34511 (wall | contribs)
04:37, October 29, 2016
1,024 × 768

(487 KB)

Firestar the true leader (wall | contribs)
01:46, August 11, 2016
308 × 242

(51 KB)

Portchopzz (wall | contribs)
01:40, July 4, 2016
1,024 × 768

(457 KB)

Ubertheif (wall | contribs)
16:53, July 3, 2016
1,024 × 768

(142 KB)

BluJay109 (wall | contribs)
16:12, July 3, 2016
1,024 × 768

(455 KB)

Shadowspirit666 (wall | contribs)
16:07, July 3, 2016
1,024 × 768

(142 KB)

BluJay109 (wall | contribs)
16:07, July 3, 2016
1,024 × 768

(455 KB)

Shadowspirit666 (wall | contribs)
06:00, July 3, 2016
1,024 × 768

(495 KB)

Cheering4life (wall | contribs)
02:43, June 5, 2016
1,024 × 768

(478 KB)

Lonewolf41195 (wall | contribs)
01:50, April 20, 2016
1,024 × 768

(501 KB)

Lunawolf33 (wall | contribs)
06:14, April 9, 2016
1,024 × 768

(508 KB)

Willowstar101 (wall | contribs)
06:12, April 9, 2016
1,024 × 768

(508 KB)

Willowstar101 (wall | contribs)
19:39, March 22, 2016
1,171 × 1,079

(465 KB)

Coolajam (wall | contribs)
18:04, March 22, 2016
276 × 300

(8 KB)

Coolajam (wall | contribs)
18:02, March 22, 2016
300 × 223

(9 KB)

Coolajam (wall | contribs)
20:09, February 29, 2016
1,024 × 768

(441 KB)

XxWarriorOfShadowsxX (wall | contribs)
20:37, February 27, 2016
1,024 × 768

(471 KB)

The Abnormal Flower Crown (wall | contribs)
17:22, February 2, 2016
1,024 × 768

(620 KB)

ScintillatingWhovian (wall | contribs)
17:54, December 10, 2015
1,024 × 768

(626 KB)

XxSkullx (wall | contribs)
01:46, December 5, 2015
1,024 × 768

(478 KB)

Cattrick (wall | contribs)
um ok I made this so long ago I don't even remember what it is. hope you like it.
01:33, August 13, 2015
1,024 × 768

(471 KB)

~ Tanari the Brave ~ (wall | contribs)
22:23, July 5, 2014
1,024 × 768

(617 KB)

Leeloupie (ThornTooth) (wall | contribs)